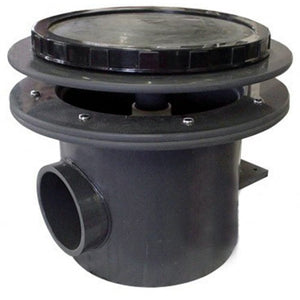 Rhino II Bottom Drain WITH Air Bladder Diffuser
Regular price $568.99 Sale
The Rhino II brings commercial quality to your pond at an economical price. All Rhino drains are made from Schedule 80 PVC and designed by computer generated machine fabrication and are thermal welded by hand to assure top quality dependable welds. All Rhino drains can be installed with extreme confidence in any application by beginners and experts alike. A bottom drain can be said to be one of the most important parts of a pond installation, in that it's integrity is paramount to the success of the entire project. 
Thicker flanges and liner attachment ring that will not flex, distort or crack
All attachments are precision machine fitted for extra strength with no need for gap filling
Full 3" height over the discharge port of Rhino II equals more concrete over the horizontal discharge.
Direct pipe connection into the air bladder. (no snaking an air line through the pipe)
Rhino drains do not use any injection molded components which would weaken the structure.